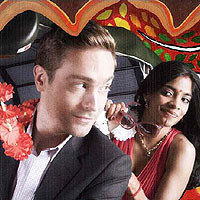 EXCLUSIVE: Richard Holmes, producer of Culinary Cinema selection Jadoo, is planning a March 4 start date for his next production, Keeping Rosie.
The film is a female-led thriller that will shoot for five weeks around London's Canary Wharf.
The story follows a businesswoman who does something terrible and must deal with some unexpected consequences. Steve Reeves will direct, in what will be his feature debut, from a script he co-wrote with Mike Oughton.
"It is an astonishing role for a 35 to 45-year-old woman," Holmes said of the lead character.
Jadoo marks Holmes' second film with director Amit Gupta after Wales-set Resistance; Gupta also has a number of other ideas in development, which would again bring them together.
Holmes (along with partners Amanda Faber and Isabelle Georgeaux) has become something of an Enterprise Investment Scheme (EIS) expert in the UK after using it to fund Resistance and Jadoo.
"We transferred a lot of major investors from Resistance into Jadoo," he said.
The trio also secured investment for the new film from private investors in San Francisco. Holmes is now raising a seed EIS for his development slate.
Jadoo was made during a 30-day shoot in Leicester, UK, Gupta's home town, for around $3m (£2m). The story was inspired by his own family, which owns a restaurant. "It was such a funny and warm script," said Holmes.
The film has tested very well with UK audiences. "If we can get the marketing right it will have the core audience of Asians in the UK, but it has a real chance to break out," he added.