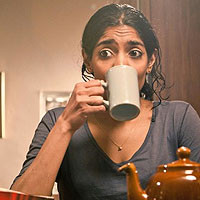 EXCLUSIVE: Jadoo producer Richard Holmes is to executive-produce a new comedy produced by Farhana Bhula.
The new film, titled Bonobo, is a story about an uptight divorcee in search of her daughter, who has forgone taking up a place at a prestigious university in favour of joining a raucous commune.
Bhula, who was an associate producer on Jadoo, will produce the comedy and director Matthew Knott will make his feature debut.
Knott co-wrote the film with Joanna Benecke.
UK-based Bhula has raised the funding for the micro-budget film through an Enterprise Investment Scheme.
The production is currently at casting stage, with the shoot scheduled to take place in the UK in late March.
Bhula told Screen: "There is a lot of comedy — naked yoga, mud massages and stiff upper lips — but at its heart this is a moving and unexpected journey of a mother who goes looking for her daughter but discovers something else."
Knott and Bhula previously collaborated on shorts Ouroboros and On This Island, which won awards at Encounters and Reykjavik.
Jadoo was recently picked up by Jeff Berg's newly launched talent and literary agency, Resolution.