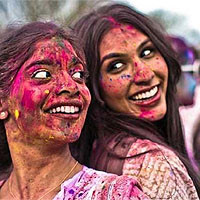 British Indian film Jadoo opens the Culinary Cinema strand of the Berlinale on Thursday [Feb 14]. Director Amit Gupta and producer Richard Holmes spoke about cooking up the comedy.
At January's UK Cinema Showcase by the FDA, the audience was invited to ditch their popcorn and instead wine and dine on Indian food before sitting down to a screening of Amit Gupta's Jadoo, followed by a Q&A with the director, producer Richard Holmes as well as cast members Amara Karan, who plays Shalini and Kulvinder Ghir, who stars as her uncle.
After his wartime thriller Resistance (2011), Gupta returned to the director's chair to shoot a film close to his heart and based on his own screenplay.
Jadoo (Hindi for magic) is set in Leicester's Indian community and centres on two brothers, who previously ran a restaurant together but fell out so badly that they tore the family recipe book in half and set up rival restaurants across the road from each other. When the daughter of one of the brothers wishes to get married she is determined to bring her father and uncle back together.
The comedy is inspired by Gupta's own upbringing in Leicester, where his mother still runs the family restaurant, The Chaat House.  Her restaurant is not only well-loved by locals, it also garnered another fan during the shoot - chef and TV presenter Madhur Jaffrey, who frequently dined in the restaurant while filming her scenes.
She became such an admirer of Gupta's mum's cooking that she included no less than five of her recipes in her new book.
Kulvinder Ghir points out that the food and family comedy is certainly not a stereotypical representation of Indian family life, but instead presents an authentic slice of life by citing his own as an example of a family is in the middle of a feud.
Gupta explains: "I wanted to portray what I knew about it [Indian culture] as accurately as possible. I didn't want to create any false conflict or drama. I just wanted to make a family movie as weird as that sounds."
He also hopes to introduce British people to a side of Indian culture with which they may not be familiar.
"Growing up [Indian] food was such a delicate experience. I wanted to show that Indian food could be very subtle and delicate and just amazing without booze," he said, although he laughingly admits that in the last five years he discovered German wine goes very well with it.
The process of obtaining funding for the $3m project went smoother than anticipated as Richard Holmes explains: "We had two diagrams, which crossed over nicely.
"We had a set of investors that had come with us from Resistance that had enjoyed the experience very much and were very good at that kind of investment relations".
The remainder of the investment came from food lovers, who weren't put off by Holmes' unusual approach of advising against investments: "It's an incredibly risky enterprise but if you're interested in this film, this is how it's done and it's about food and feuding". 
"We made people laugh," he continues, and once they had started the funds were raised remarkably quickly. To obtain the necessary financial aid the team even travelled as far as San Francisco to visit a very small Indian community.
Gupta credits director of photography Roger Pratt with not having run over their 30 day shoot, which took place from March to April 2012, and his ability to shoot $200m movies but to also scale down and say 'this is how we're going to do it and do it quickly'.
Gupta adds admirably that "you don't usually expect DPs who have shot two Harry Potter movies to just scale down like that", and being able to shoot in "little kitchens".
Jadoo was selected to screen at the Berlin Film Festival as part of the Culinary Cinema strand.
Resolution handles international sales.